Eddie Tovar's 1948 Chevrolet
To sum it all up" This is One Awesome Ride"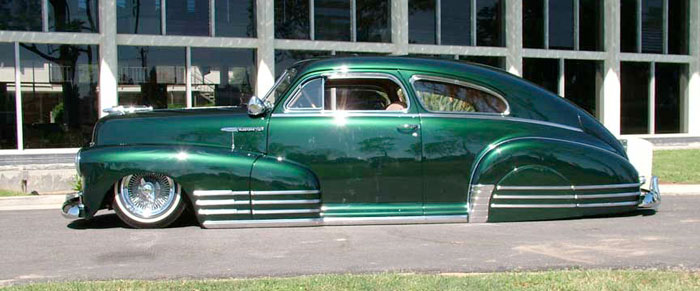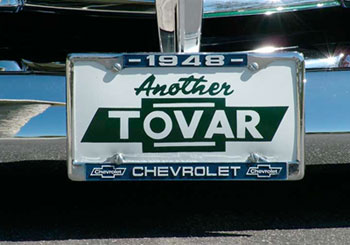 In 2001 I was attending a popular car show in Southgate, which is in the Los Angeles County.
This is where I had my first look at Eddie Tovar's dropped down, to the floor, 1948 Chevrolet
Fleetline. All I can say is that I was in "awe" and it was love at first site. I had never seen a Fleetline
that low ever. Eddie Tovar has truly out done himself and is to me the envy of all owners with a
lowered Fleetline. After talking to Eddie about the custom work involved to achieve this look
it is apparent that the bar has been set extremely high. For those of you out there who do custom
work you probably have an idea on how Eddie got this ride to sit so low but for those who do not
know you will have to ask Eddie himself, his creation is for him to tell, not me. Eddies car has
been out for approximately 4 years now and has been in several magazines and on my website
but I have been wanting to feature this car for some time now to give it the recognition it deserves.
Eddie has been in the seen for some time now, back in 1998 his other 1948 Chevrolet Fleetline,
two tone blue, was in the LowRider Classics Magazine, Premier Issue. Eddie has set the standard
so high that it is unreachable to attain. Eddie and his brother Michael are known throughout LA
and it's surrounding areas with there one of a kind cars, they set the standard. Michael owns
a 1939 Chevrolet convertible. I try to bring to you only the best of the best and I hope you
will all agree with me. All I can say is "WOW !!!, my hat is off to you Eddie.